Brite Star World Education and Socrates join forces to help kids become good adults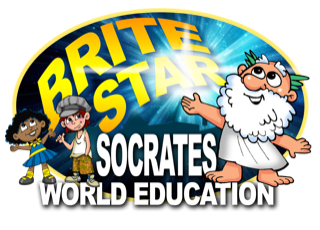 November 5, 2019, Las Vegas, Nevada – Brite Star World Education, Corp and Education Revolution, LLC today announced that they will partner to combine the extensive Brite Star Media content with the power of the Socrates Learning Platform to create the first dynamic learning environment for life skills and behavioral learning.   Their mission will be to teach children how to be better kids and become better adults through an engaging and entertaining learning experience that creates a unique learning path for each child.
Brite Stars library of content contains thousands of products including books, digital content, and videos.  Brite Star's content has been translated into numerous languages and have been sold in over 50 countries to schools, pre-schools, religious institutions, and families around the world. Brite Star's engaging stories feature the Brite Star Kids and animal critters and teach important life lessons.  Brite Star's library of content includes numerous book series for different age groups as well as the Brite Star Christian Academy.
The Socrates Learning Platform is a cloud-based dynamic learning solution that uses learning intelligence to create unique learning paths for each child, automatically suggesting and guiding them through educational content.  Socrates' extensive selection of games and rewards makes learning fun and engaging, keeping kids playing and learning more. Socrates also empowers teachers and parents by giving them the tools that they need to help their children, assign homework, benchmark, and more. After being funded through a grant from the National Science Foundation, Socrates launched in 2018 and has rapidly grown to become a leader in online education of traditional learning including Math, English Language Arts, and Science. Socrates is currently available in English and Spanish with more languages on the way.
The two companies have partnered to create the Brite Star Socrates Learning Network, which will guide children through learning life skills, taught through a learning experience with the Brite Star kids.  Through the partnership, all the Brite Star books will be available as dynamic learning content adjusting to each child's learning needs.  The companies will combine their efforts to create new book series to teach science history, financial education, and more including hundreds of new titles, videos, and games for children to enjoy.
"The Socrates Learning Platform will allow us to bring the Brite Star world to life" stated Vince Goett, Creator of the Brite Star World.  "Socrates's innovative approach is exactly what we were looking for to bring our content to kids in a fun and engaging way.  Brite Star Socrates will allow us to help more kids then ever before and to rapidly expand the Brite Star world by releasing new content in a wide range of educational topics. The Socrates team and partners share the passion I have for providing much-needed life lessons for children around the world".
"Brite Star has created an incredible world of fun characters that teach kids important life lessons", stated Brian G. Rosenberg, co-founder and CEO of Education Revolution. "We realized that our companies had incredible alignment in vision, mission, and values.  Brite Star's content will allow us to quickly bring whole-child learning to our mutual customers and align print, digital, and interactive content to create an exciting world for them to experience"
The new platform, Brite Star Socrates Learning Network, will release soon.  Membership will include discounts off the extensive Brite Star print library.
About Brite Star World Education
Brite Star World Education is a multi-faceted children's education company with thousands of products featuring the Brite Star Kids and the Animal Critters that reside in Brite Star in addition to world renown authors. The multiple companies include print, digital, music, video, and virtual technology showcasing exciting and engaging characters and stories. In the near future you will be able to enjoy a virtual world where an entire family can learn from, "Life Learning Lessons" in Brite Star and thousands of self-help books and videos as well as multiple learning curriculums, that includes hundreds of interactive activities and so much more.  www.britestarstore.com
About Education Revolution and the Socrates Learning Platform
Education Revolution is rapidly becoming a leader in online education with its award-winning Socrates Learning Platform. The Platform is already being used in elementary and middle schools and the range of educational content provided is steadily growing. Socrates includes a unique dynamic learning engine that adjusts the content to precisely match the learning needs of each student, resulting in students learning up to three times faster. The National Science Foundation awarded Socrates with a grant in recognition of its unique innovation and significant societal benefit.  Socrates was also awarded by Fast Company as a World Changing Idea in education in 2019.   www.withsocrates.com/
Both companies are located in Las Vegas, Nevada. To find out more about the Brite Star Socrates Learning Network, visit www.britestarsocrates.info
Candy Rosenberg
E:   [email protected]