April 10th, 2019, Las Vegas, Nevada – Education Revolution, LLC, the creator of the award-winning Socrates Learning Platform, today announced another accolade, this time from Fast Company's 2019 World Changing Ideas Awards. Socrates was recognized in the Education category of the Awards.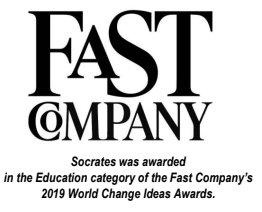 Fast Company's World Changing Ideas Awards honor products, concepts, companies, policies, and designs that are pursuing innovation for the good of society and the planet.
The Socrates Learning Platform is a cloud-based artificial intelligence solution that creates one-to-one learning paths with real-time updates, keeping each student on the optimal learning track. Learning is also fun and engaging for students through Socrates' uniquely customized games and rewards. Socrates also empowers teachers by giving them the tools that they need to manage increasing classroom sizes.
Socrates previously had been awarded a National Science Foundation grant in 2018 for its unique innovation and potential positive impact on society. Students are able to learn up to three-times faster using the Socrates Learning Platform.
"We are honored to accept this award from Fast Company", stated Brian G. Rosenberg, co-founder and CEO of Education Revolution. "We have been able to impact the lives of many children in the short period of time since we released in 2018, and we look forward to improving education for kids around the world."
The World Changing Ideas Awards is now in its third year. A panel of eminent judges selected winners and finalists from a pool of more than 2,000 entries across 16 categories. The categories including such areas as Food, Education, Energy, Transportation and Developing World Technology. Alongside Education Revolution, other awardees included St. Jude's Children's Research Hospital, General Motors, Sesame Workshop, Bill and Melinda Gates Foundation, Amazon, Google, and Volvo.
About the World Changing Ideas Awards
World Changing Ideas is one of Fast Company's major annual awards programs and is focused on
social good, seeking to elevate finished products and brave concepts that make the world better. A
panel of judges from across sectors choose winners, finalists, and honorable mentions based on
feasibility and the potential for impact. With a goal of awarding ingenuity and fostering innovation, Fast Company draws attention to ideas with great potential and helps them expand their reach to inspire more people to start working on solving the problems that affect us all. For more details, click on each respective link: Fast Company or the World Changing Ideas Awards.
About the Socrates Learning Platform for Schools
Socrates is a revolutionary learning platform that dynamically adjusts to the individual learning needs of each student across any educational content. Socrates is already deployed in elementary and middle schools. Socrates is directly available to students, teachers, schools, parents/guardians (including for homeschooling), libraries and museums. Socrates includes various "Command Centers", including the Teacher Command Center that provides a powerful teacher assistant that lets teachers know when and where each student needs help. The Testing and Benchmarking Module allows teachers to automatically create, administer, grade and compare tests to quickly and with-ease evaluate student progress. The Parent & Tutor Command Center connects the home and classroom. Socrates games and gamification keep the child wanting to play more – the more they play, the more they learn. www.withsocrates.com
About Education Revolution, LLC
Education Revolution, LLC is rapidly becoming a leader in online education with its award-winning Socrates Learning Platform. The Platform is already being used in elementary and middle schools and the range of educational content provided is steadily growing. Socrates includes a unique dynamic learning engine that adjusts the content to precisely match the learning needs of each student, resulting in students learning up to three times faster. The National Science Foundation awarded Socrates with a grant in recognition of its unique innovation and significant  societal benefit. www.withsocrates.com